Tea bush (Camellia sinensis)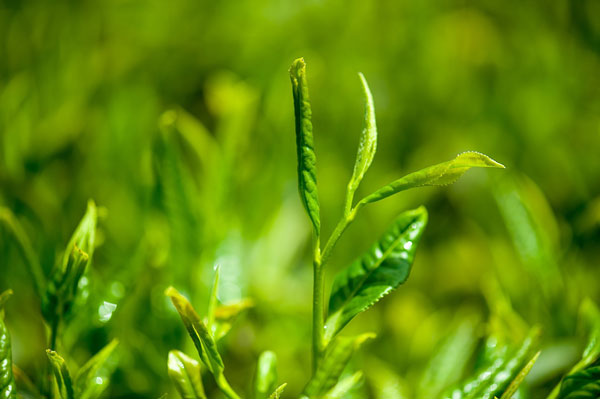 When we speak of "tea" in everyday life, we often do not think of black or green tea, but of a hot infusion of dried herbs and fruits. In the true sense, however, "tea" refers to the tea plant that originates in Asia.
The evergreen tea bush belongs to the camellia genus. It is originally native to Japan, China, Korea and India. In cultivation, the plant grows 1-5 m high.
Black, green or white tea – all these specialities come from the leaves of the tea bush. However, they are processed differently after harvesting. In the case of the well-known black tea, fermentation takes place, through which new aromas and colourings are formed. Its value-determining ingredients are primarily the purine alkaloids, above all around 3% caffeine as well as theophylline and theobromine. It also contains tannins, flavones, saponins and minerals. Tea is therefore not only a stimulant, but also a medicinal plant. Caffeine in particular is responsible for the centrally stimulating effect of tea on the mind and body. In higher doses, caffeine and theobromine also cause the increased release of calcium stored within cells, so that the muscles can be activated.
The tannins are responsible for the tea's anti-diarrhoeal effect. Tea also has cell-protective, anti-inflammatory, anti-carcinogenic and diuretic properties.