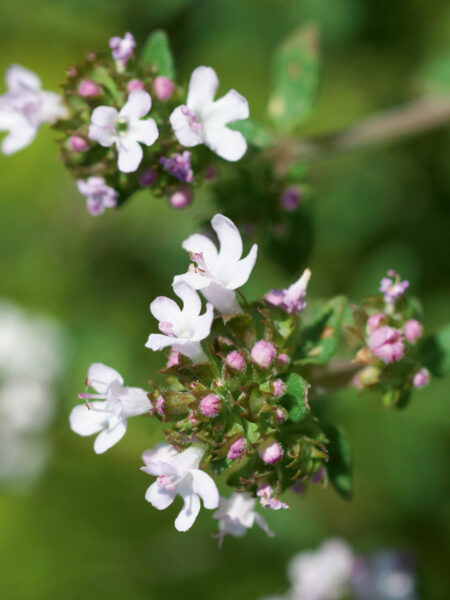 The strongly aromatic thyme is originally native to the dry, sunny areas of the Mediterranean region and southern France. The plant, which is used for spice and medicinal purposes, is nowadays also planted in many gardens here, but it is not hardy. Thyme belongs to the labiates family and forms a semi-shrub 20 – 40 cm high.
Thyme is a medicinal herb that was already valued in ancient times and is said to have been used by the ancient Egyptians to embalm the dead. In the Middle Ages, the herb's healing effect on the lungs and bronchial tubes was recognised.
Today we know that the value-determining ingredients of thyme are mainly essential oils (thymol, carvacrol), bitter substances, tannins and flavonoids. The essential oils stimulate the function of the ciliated epithelium in the respiratory tract, lead to a liquefaction of the mucus and promote expectoration when coughing. In addition, thymol and carvacrol inhibit the growth of bacteria, viruses and fungi. The tannins contained in thyme support the anti-inflammatory effect and promote digestion.