Ribwort plantain (Plantago lanceolata)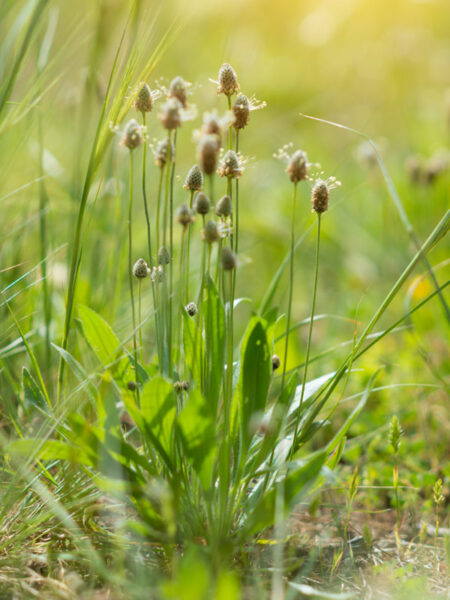 The well-known pointed plantain is widespread in Central Europe. It grows along roadsides and in meadows. The medicinal plant from the plantain family can reach a height of up to 40 cm.
The whole herb is used for medicinal purposes. Its valuable constituents are 2 – 3 % iridoids (glycosides), up to 6 % mucilage, tannins, flavonoids and essential oil. While the mucilage has a soothing effect, the tannins have an astringent effect and the iridoids have an antibacterial effect. Furthermore, ribwort has anti-inflammatory and wound-healing properties. It also stimulates the production of interferon in the body and thus increases resistance to viruses in the airways.
The main areas of application for preparations made from ribwort plantain (crushed drug, fluid extract or fresh plant press juice) are catarrh in the respiratory tract, inflammation of the mucous membranes of the mouth and throat and inflamed skin lesions.
In folk medicine, however, ribwort plantain not only has a long tradition as a cough remedy. Bruised leaves placed directly on open wounds have a haemostatic effect and are used for initial wound care. The medicinal plant is also used to treat insect bites.