Flax (Linum usitatissimum)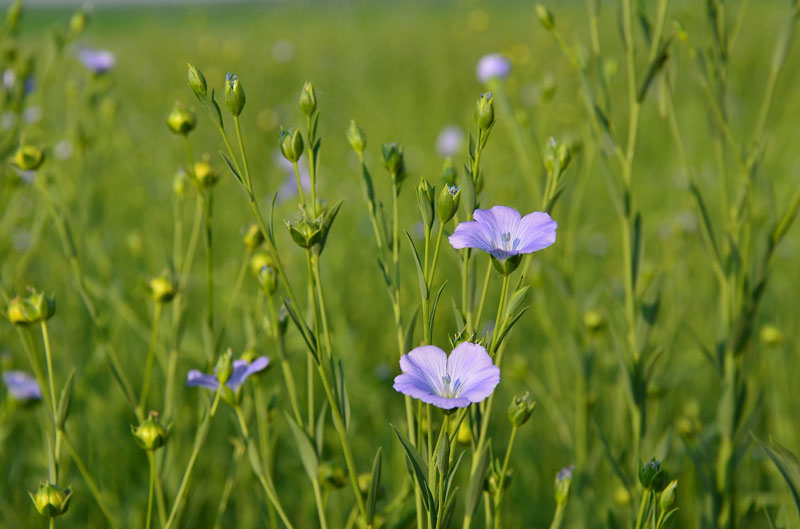 The common flax or flax belongs to the linen family. It is one of the oldest cultivated plants, originally from the Mediterranean region, the Near East and North Africa. Over the millennia, flax has been used to produce both flax fibres and linseed oil.
Today, linseed, whole or crushed, and the linseed oil obtained from it are used for dietary purposes. Linseeds are rich in dietary fibre (about 25%). They also contain 30-45% fatty oil with a high proportion of the unsaturated fatty acids linoleic and linolenic acid. The mucilage content of the seeds can range from 3-19%, depending on the variety. Linseed is a classic bulking and swelling agent.
After oral intake, linseed stimulates intestinal peristalsis and has a laxative effect. The mucilages they contain have an irritation-reducing and mucous membrane-protecting effect. They are therefore used for constipation as well as diarrhoea, irritable stomach, gastritis and inflammatory bowel diseases. As dietary fibres, flax seeds also have a lowering effect on blood lipid levels. In folk medicine, linseed is also used externally as a warming poultice to treat muscle damage (e.g. cross-contusion in horses) and to ripen abscesses.
The high-quality linseed oil, which is rich in omega-3 fatty acids, has a mild laxative effect and soothes irritations. Due to its content of unsaturated fatty acids, it also has anti-inflammatory effects. In addition, the effectiveness of the oil against deposits in the blood vessels (arteriosclerosis) is discussed.
Intensive research is currently being done on the dietary effects of linseed and linseed oil in the diet. The focus is on high blood pressure, cardiovascular diseases, cancer and menopausal complaints.