Elderberry (Sambucus nigra)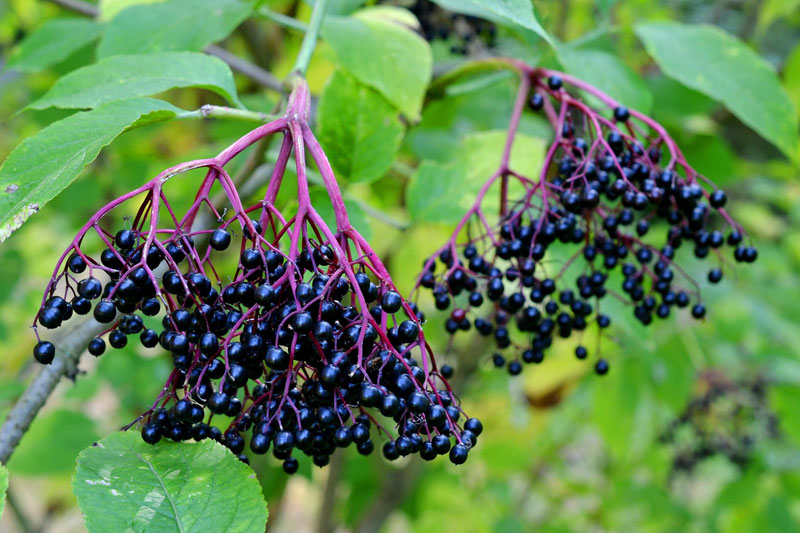 The black elder, also called elder or lilac bush, has a long tradition as a remedy in our culture. It was sacred to the Germanic tribes as the seat of the goddess "Holder" and the goddess "Freya", the protector of house and farm, and is shrouded in legend. Since almost all parts of the elder bush were used medicinally, it was considered the "pharmacy of the poor".
Today, we use the fragrant blossoms of the black elderberry as a tea or its cooked berries for feverish colds in humans and animals. Dry, irritating coughs, flu-like infections and laryngitis are the areas of application for elderflower tea, which has a diaphoretic effect and loosens viscous secretions in the respiratory tract.
The flowers of the black elderberry contain up to 3.5% flavonoids (especially rutin), chlorogenic acid, up to 0.2% essential oil, phytosterols and mucilage.
Modern research proves that elderflowers promote the formation of thin secretions, kill viruses, relieve pain, inhibit inflammation and stimulate the immune system. Especially for sinusitis and sinusitis, black elderberry can be very helpful. Elderberries (never eat raw!) are rich in vitamins C, A and B and have an antioxidant effect due to their high content of dark pigment (anthocyanidin). The fruits have proven themselves in the treatment of nerve inflammations, such as trigeminal neuralgia, and stimulate the detoxification functions in the body.